Rib & Chop House
4655 Harrison Avenue
Butte, MT 59701
(406) 494-9200

Montana's Rib & Chop House is known for its award winning pork baby-back ribs but that doesn't over shadow its incredible steaks.  Awarded the best Steak House in both Montana and Wyoming. This location is Butte's newest restaurant located in the completely transformed Copper King Hotel. The Copper King is located directly across from the Bert Moody Airport.
---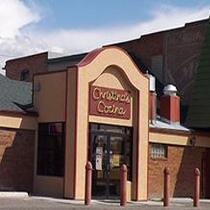 Christina's Cochina
2201 Silver Bow Blvd.
Butte, MT 59701
(406) 723-8444

Christina's Cocina Café has won the people's choice award in several categories. These include Best Mexican restaurant, best restaurant service, best kept inside, best lunch, and best waitress. The menu is filled with an abundance of homemade dishes. Place your content for the second column here.  Christina's Cocina Café, (Cocina means kitchen in Spanish) is out of the way but worth the find. This café is owned by the McGrath family. They also own the attached bar called McGrath's Pub. Theirs is the only establishment they know of that has a Mexican Restaurant and an Irish Pub. This is very typical of Butte's ethnic diversity. They have been in business since 1980. They relocated after a tragic fire in 1998. 
---
MacKenzie River Pizza
3450 Monroe Avenue
Butte, MT 59701
(406) 782-0020

MacKenzie River Pizza is the more than just pizza.  Located just east of the intersection of Harrison Avenue and Monroe Avenue – next to Wells Fargo Bank.